Underlining the capital's burgeoning reputation as a destination for travellers working remotely, the Buenos Aires City government has announced it will host the continent's first-ever conference for digital nomads next week.
The two-day hybrid in-person and online event, which takes place at the Usina del Arte in La Boca, is a move to reactivate the capital's visitor economy and boost international tourism, especially among young professionals.
NomadsBA, which runs from November 26 to 27, is the City government's first international conference since the coronavirus pandemic. With seasoned digital nomads and entrepreneurs from all over the world set to attend, participants will be able to enjoy talks and workshops on a range of subjects, from business models to personal branding.
Headlining a host of key speakers at the event are educator, entrepreneur, and adventurer Jimmy Naraine; real-estate entrepreneur Matt Bowles (Maverick Investor Group); digital marketing expert and nomad community builder Rosanna Lopes; tech entrepreneur and unicorn founder Alec Oxenford (OLX Group, Letgo); and movie producer Axel Kutchevasky.
More than 25 free activities and sessions have been organised, including networking opportunities, meet-ups, tours, cocktail evenings, yoga classes and co-working space openings, as the authorities seek to persuade digital nomads that Buenos Aires is the perfect place for them.
City Hall hopes to be attracting around 22,000 to the capital by 2023, with the numbers of digital nomads on the rise. New travel trends such as 'workations' and remote working have seen the sector explode in recent years, with increasing numbers of young professionals seeking lives that balance work and financial flexibility with travel and leisure.
Trailing the news, City Hall announced that it will soon move to introduce a new 'Digital Nomad Visa,' extending the length of the current standard 90-day tourist visa to a full year.
"We want young people all over the world to choose Buenos Aires to live, study or work. A city is better able to grow and develop when it has stronger international links and influences. Our city is an ideal destination for digital nomads: it has great culture and diversity, high human capital, and above all it is liveable, accessible and affordable," said City Mayor Horacio Rodríguez Larreta in a statement.
For details of the full line-up, schedule and to sign up, visit https://nomadsba.co. The event is free to attend either in-person or online. Participants only need to register online via the website.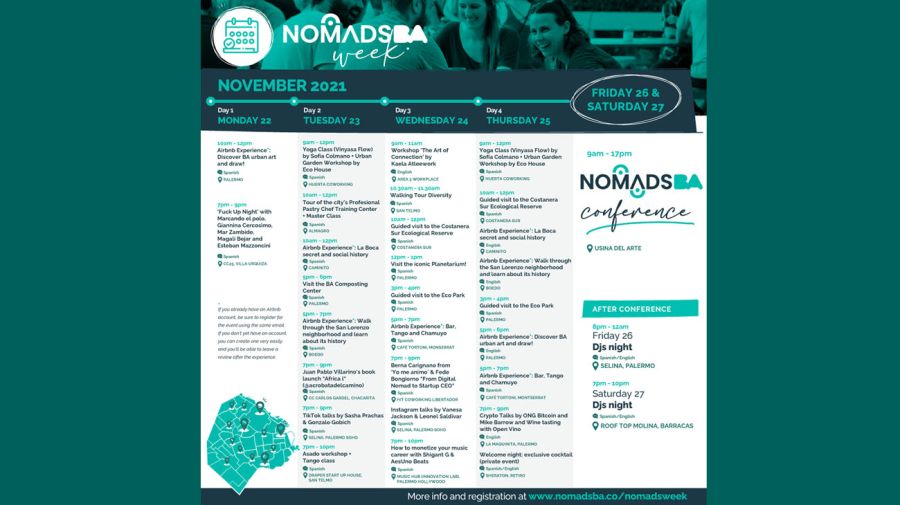 – TIMES