The prison population in Buenos Aires Province is growing year after year and, according to the latest report of the CPM Provincial Memory Commission, the incarceration rate is now at its highest point since records began.
According to the CPM, the problem is the result of a criminal policy which has not changed in over 20 years: "Persecuting and locking away the most vulnerable sectors of society, especially poor youths."
The CPM report singles out the fact that security policies are based on police saturation of territories. That is, more police and police cars, but not to prevent crime, rather to regulate it.
"The punitive cycle (police-courts-prison system) is a well-oiled machine, nearly in auto pilot. It causes overcrowding and human rights violations," said Roberto Cipriano García, secretary of the CPM.
During his time in office, Buenos Aires Province Justice Minister Julio Alak has announced 12,000 new cells but has only built 2,800. Between 2001 and 2022 the prison population in the province increased by 31,000 people. "The problem is criminal policy," stressed Cipriano García.
Prison overpopulation naturally leads to overcrowding and inhuman living conditions. Inmates, as emphasised by the CPM, have no access to healthcare.
"The current administration started a construction plan to solve this problem. Between 2020 and 2022, 2,262 new rooms were built, but the system grew by 5,946 new detainees," the report states.
According to the CPM, in December 2022 there were 55,621 people detained in custody in prisons, city halls and police stations in Buenos Aires Province – this number grew by three percent from the previous year, when 54,107 were incarcerated.
'Rising for 10 years'
The study points out that the "incarceration rate in Buenos Aires has been rising for 10 years." Today, over half the inmates in the country are in the region.
Nationwide, the incarceration rate shows there are 221 detainees for every 100,000 people, lower than the province, which has peaked at 311.
In 2022, the Buenos Aires Province Police detained 222,145 people, out of which 38,179 (17 percent) were taken into custody after being charged. However, only 18,920 (eight percent) were remanded at the SPB Buenos Aires Penitentiary Service.
"Eighty-three percent of police apprehensions are not related to crimes, but to the control of stigmatised and excluded populations," the report finds.
According to the data, last year apprehensions went down by 20 percent from 2019. "This criminal policy has very serious consequences because it leads to the systematic violation of human rights," the CPM stressed.
This number of apprehensions and arrests collapse the prison system because there are more people going in than coming out. "In 2021, the difference was 3,700 more compared with 2020. In 2022 it went down to 1,851 people. This generates overcrowding, both in prisons and police stations," the report adds.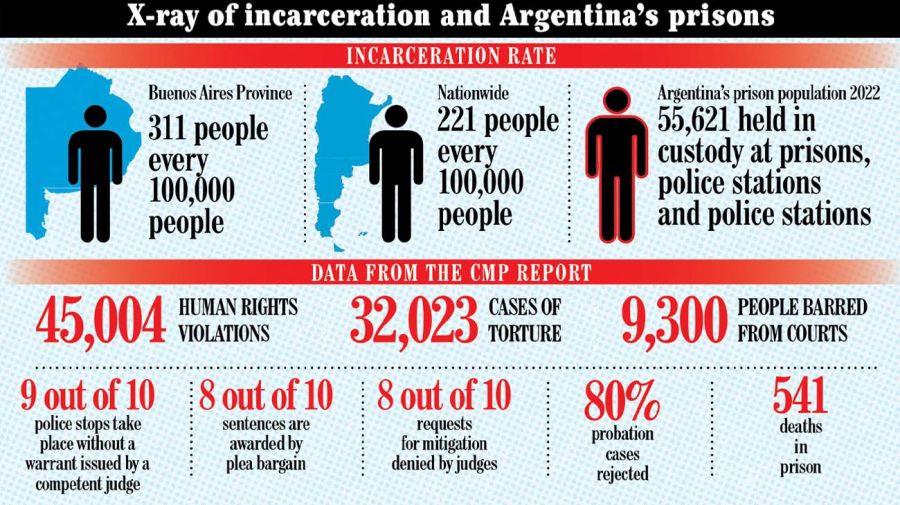 Underlining the harsh conditions behind bars, in 2022 the CPM recorded 45,004 human rights violations (such as lack of access to courts and healthcare, isolation, hunger and transfers), among others. It also detected 32,023 cases of torture and over 9,300 cases of people being barred from courts.
According to the data, nine out of ten police stops take place without a warrant issued by a competent judge as per the Argentine Constitution.
As for the courts, the CPM pointed out that eight out of every ten sentences are awarded by plea bargain and it believed that this method "is extortion generally imposed on detainees".
It further showed that eight out of every 10 requests for mitigation of sentence are denied by judges. "Provincial magistrates rejected 80 percent of probation cases, 74 percent of conditional early releases, 82 percent of temporary outings, 78 percent of prison furlough schemes and 85 percent of house arrest cases," the report points out.
On a darker note, the report acknowledges the impact of conditions behind bars and the denying of mitigation requests. In 2022, 541 of people held in custody died while in prison.
In this news