A Federal Court in Mar del Plata has sentenced members of a neo-Nazi gang to jail time ranging from four to 9.5 years.
Seven of the eight men on trial were found guilty of a wave of violent attacks and vandalism that took place in the resort town from July 2013 through 2015. The eighth defendant, Giardono Spagnolo (23), was acquitted because of a lack of evidence surrounding his alleged involvement in the gang and its activities.
As the Times reported in January, local human rights groups, Jewish organisations and a team of federal prosecutors collaborated throughout 2017 to elevate the gang's crimes to a public and oral trial.
The men carried out a series of violent attacks against the city's LGBT and Bolivian communities and left a wave of racist and anti-Semitic graffiti.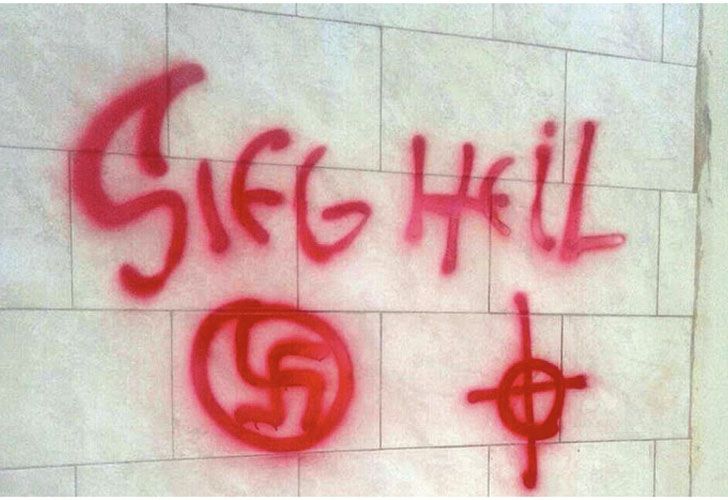 Prosecutors argued that the men operated in groups of three or more and used weapons that included PVC pipes filled with concrete, sticks with nails, boxing gloves, rubble and wooden vegetable crates to launch attacks. In separate incidents, they sprayed graffiti on local monuments and private property, drawing swastikas and Nazi slogans.
It was the first time a gang with explicit neo-Nazi traits has faced trial in Argentina.
Victim and local rights leader Javier Moreno Iglesias celebrated the outcome of the trial, telling the Times he was "very pleased with the sentences."
"This is not just an individual sentiment but a collective sentiment among all of us involved in this trial."
"Many people in Mar del Plata had questioned or relativised the severity of this phenomenon. These sentences set a strong precedent and send a message that the Judiciary can and will act against" these types of crimes, he added.
'A FALSE SCENARIO'
Lead judge Roberto Falcone said the men had identified with and implemented an "underlying plan" against their victims. He also took aim, not only at the defence, but at the public prosecution led by Juan Manuel Pettigiani, for presenting "a false scenario" that suggested the crimes had simply formed part of a territorial dispute.
"The prosecution's interpretation is wrong. The crimes carried out by the accused incited hate, discrimination and violence, all of which are sentiments that destroy our social and democratic order", Judge Falcone charged.
Victims' legal teams and rights groups had taken issue with Pettigiani's approach throughout the trial.
"The prosecutor had tried to negotiate with the accused to accept a minor penalty without imprisonment, by removing accusations of conspiracy and other violations of criminal law", Dr. Ariel Gelblung, director of the Simon Wiesenthal's Latin American office, said in a statement celebrating the court's ruling.
"This trial is a mirror reflecting the defence of the republic", Gelblung said.
In this news