Transport Minister Mario Meoni was laid to rest at a funeral in Junín last Saturday, following his death from serious injuries sustained in a car crash on the evening of April 23.
The 56-year-old was driving a car on Ruta Nacional 7, according to local media, which overturned. Meoni was driving near San Andrés de Giles, Buenos Aires Province, on his way back to rejoin his family in Junín for the weekend when the accident took place.
Earlier in the day, he had been in Rosario, where he attended various meetings with President Alberto Fernández and Santa Fe Peronist Governor Omar Perotti to discuss agreements on ports, rail services and other infrastructure investments. One of the planned projects was an expansion of Rosario's public bicycle system to create a network of safe routes for cyclists.
The minister was travelling alone in an official ministerial car, a Ford Mondeo, having reportedly given his chauffeur the evening off.
According to initial reports, Meoni lost control of the vehicle at around 9.30pm near Kilometre 112. It is believed he crashed into the guardrails and the car overturned. The cause of the accident is unknown but there was a cloudburst that evening with torrential rains complicating driving. The minister had undergone a successful heart operation only two months previously.
Mayor of Junín from 2003 to 2015, elected under the UCR's banner, Meoni was known as one of the so-called "K Radicals" who were co-opted by the Kirchner presidencies soon after the late Néstor Kirchner took office in 2003 – a strategy orchestrated by then-Cabinet Chief Alberto Fernández rather than the presidential couple.
Meoni later joined Sergio Massa's dissident Renewal Front from 2013, of which he was a co-founder, where he remained until following the current lower house Speaker into the Frente de Todos coalition in mid-2019.
On his website, he talked about growing up as the son of a Highway Board employee and a housewife. He started working at 15 as a glass cleaner at a café.
Happily married with two sons, he was sworn into President Fernández's Cabinet on December 10, 2019, taking on the position of transport minister.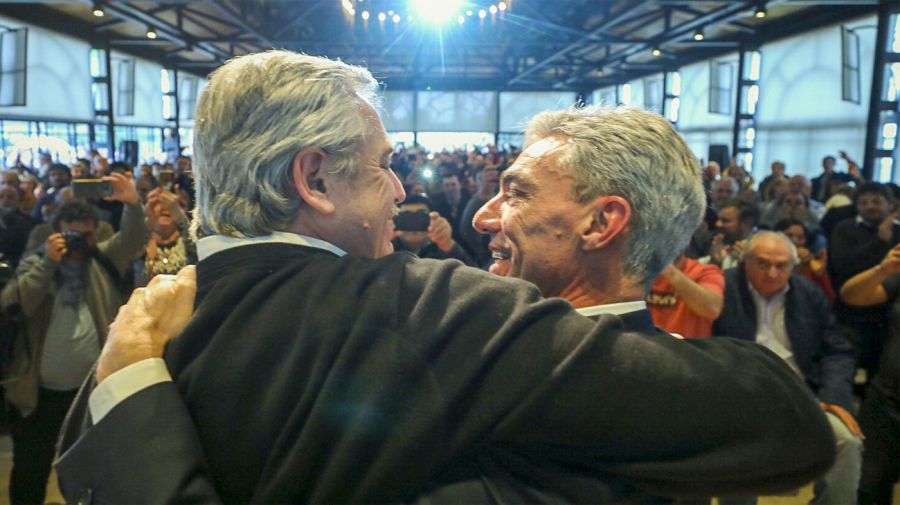 'Exemplary'
"With great sadness I have received the unwelcome news of Mario Meoni's death, our Government's Minister of Transport. With him we lose a complete, tireless and honest politician. An exemplary official. With sincere regret, I accompany those who like me have loved and respected him," said President Alberto Fernández in a post on Twitter.
A consternated president later told Radio 10: "What a shame, really a shame! For me it's an immense loss, I loved him greatly. And for the State, where we had in Mario an exemplary minister. He was a man of unbreakable íntegrity and honesty. He gave his all to do things well and look after people."
The president added that he had recommended to his minister not to drive back to Junín after a long day at work often ending at 9pm or 10pm with both Massa and himself urging him to make an overnight stop. Reports last Friday said that Meoni often headed to the city on Fridays, meeting up with his family upon his arrival.
Fernández attended the late minister's funeral in Junín last Saturday, describing his unfortunate Cabinet member as "tremendously valuable." Massa was also present.
The local citizenry turned out to applaud the funeral procession of their former three-term mayor and ardent fan of the local Sarmiento football club.
Tributes from across the political spectrum poured in for the late minister.
"Dismayed by the death of Mario Meoni. Today we were together with Alberto Fernández and other colleagues from the Cabinet in Rosario. Like every Friday he was returning to Junín," wrote Defence Minister Agustín Rossi. "Huge coworker. Great guy. Huge sadness. A hug to his family."
"Great sorrow over the death of Mario Meoni. A great man has left us. Dedicated, passionate, a good person and a better father. I want to remember him like this, working together. I hug his family and close friends," said Vicente López Mayor Jorge Macri, cousin of previous president Mauricio Macri and a member of the Juntos por el Cambio opposition coalition.
Vice-President Cristina Fernández de Kirchner was more succinct, limiting her Twitter message to: "I deeply regret the death of minister Mario Meoni. My condolences to his family and friends."
The Transport Safety Board (JST in its Spanish acronym) immediately began investigating the circumstances of the traffic accident which claimed their ministerial chief's life, appointing an investigator. The body was created by Meoni just over a year ago to investigate accidents on land, air and sea with a view to determining causes rather than identifying culprits.
On Monday the JST published its basic report, while pointing out that the causes were still under investigation. It confirmed that the vehicle overturned after crashing into the guardrail and that the road surface was wet and slippery, also adding the detail that this particular zone of the highway was unlighted. The JST promised a preliminary report within 30 days.
At print time, there was still no word on who would be the next minister. Early reports in the week said that Massa had presented Fernández with a list of three potential replacements.
– TIMES