Argentina's bonds gained Monday after voters rejected the government's handling of the economy in midterm elections and President Alberto Fernández promised to cooperate with opposition lawmakers on a new agenda.
The nation's US$20.5 billion in dollar-denominated bonds due in 2035 rose 0.7 cent to about 31 cents on the dollar, their biggest gain since the aftermath of primary elections held September 12.
Fernández's left-wing coalition was behind in six of eight Senate races with at least 98 percent of votes counted in each province after Sunday's ballot, signalling that a Peronist-led government is poised to lose control of the upper chamber of Congress for the first time since 1983.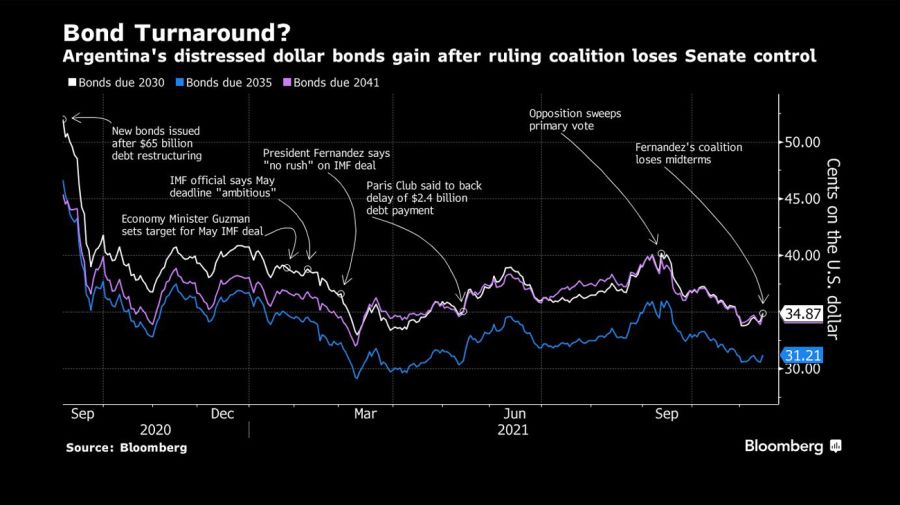 Speaking after the results came in, Fernandez said the government will submit a bill with a multi-year economic programme in the first week of December, and will seek consensus from the opposition on a shared agenda. Fernández said he'll work on a deal with the International Monetary Fund over its debt, saying it was the nation's "biggest stumbling block." He added that he wouldn't seek a path of austerity with the Fund.
"The government's message is very positive in terms of showing a strategy of unity with the opposition for the second half of its mandate," said Agustin Honig, managing director for Adcap Securities in Buenos Aires. "Without a doubt, seeking the opposition's support for a multi-year economic plan with the IMF is a strong signal, and in line with what the market wants to hear."
The ruling coalition's electoral loss was a rare boost for Argentina's hard-hit dollar bonds, which sunk into deeply distressed territory soon after the nation restructured around US$65 billion in overseas securities last year.
The securities have failed to recover as investors have remained wary of Fernández's management of the economy, wracked by 52 percent annual inflation caused in part by populist spending meant to combat crippling 40 percent poverty.
"The trajectory of the peso is unsustainable and we expect to see adjustments in the official depreciation," said Alejandro Cuadrado, head of Latin America foreign exchange strategy at BBVA in New York. "President Alberto Fernández put the IMF agreement on the agenda and we hope to see pragmatism."
Investors will also be keeping an eye out on the next statements from Vice-President Cristina Fernández de Kirchner, who herself was president from 2007 to 2015. After the September primary, she published an explosive essay criticising the president over strategy, including what she said was a lack of spending. It's unclear what policy or Cabinet changes Fernández de Kirchner may now demand. She didn't comment on the results Sunday night.
"I'm still slightly sceptical that this administration will engage, and it won't just be gridlock for a couple of years until 2023,"said Richard Briggs, a London-based money manager at GAM Holdings. "But the market seems optimistic around the prospect of an IMF deal before large payments are due in March."
by Scott Squires & Ignacio Olivera Doll, Bloomberg