MercadoLibre Inc will "for sure" invest more than three billion reais (US$718 million) in Brazil next year with a focus on financial services and logistics, Chief Operating Officer Stelleo Tolda said.
The Latin American e-commerce pioneer, now worth US$28 billion, plans to invest more in its financial services and payments unit while opening more distribution centres and seeking partnerships to cut delivery time further, Tolda said in an interview at Bloomberg's Säo Paulo office.
The early guidance on outlays for next year follows investments of two billion reais in Brazil last year and three billion reais this year. As competition heats up from the likes of Amazon.com Inc and local retailers including Magazine Luiza SA and B2W Cia Digital, MercadoLibre is defending its market share of about 33 percent and looking to get customers to lean heavier on its services for day-to-day shopping and payment solutions, Tolda said.
"We strongly believe in the growth potential of this business, so it's too early to focus only on profitability," said Tolda, who met MercadoLibre's founder Marcos Galperín at Stanford University in the late 1990s and has been leading the Brazil business since the start, 20 years ago.
MercadoLibre, based in Buenos Aires but with operations in 18 countries and shares trading in New York, is offering same-day delivery in São Paulo and looking to expand its next-day delivery to at least 16 cities in 2020.
The firm currently operates two distribution centres near Sao Paulo and will open facilities in other regions, to speed up its delivery in a country larger than the continental United States.
Brazilian e-commerce has more than doubled to 68.8 billion reais between 2013 and 2018 and should almost double again through 2023, according to market researcher Euromonitor International.
The newest focus for the company is on the fast-moving train of fintech services courting large parts of the population without bank accounts.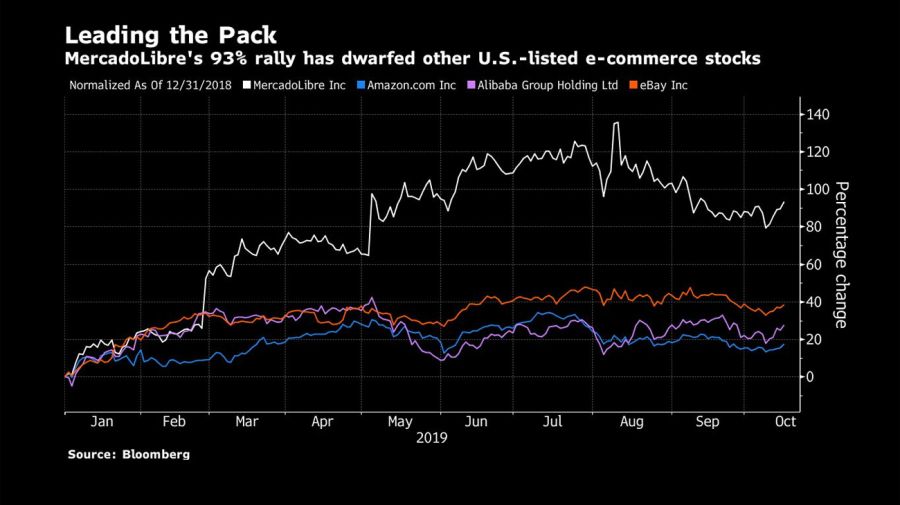 MercadoPago, the payments platform, has been leading growth at the company. The number of transactions more than doubled year-on-year in the second quarter with the value surging 47 percent to US$6.5 billion. That compares to US$3.4 billion in gross merchandise value from the marketplace.
"We see opportunities not only in payments, but also in all financial services, including credit, investments and eventually insurance," Tolda said. "MercadoPago is also the way through which we believe we'll have higher recurrence in people's lives."
MercadoLibre needs to invest in marketing for the MercadoPago brand and search out companies to provide payment solutions and individual customers to use the virtual wallet. Offering payment with cards as well as with QR codes, MercadoPago has already cut deals with a wide variety of brick-and-mortar companies in Brazil such as gas stations, drugstores and the São Paulo subway.
The firm doesn't plan to spin off the financial products unit, which it sees as a way to increase interactivity with customers and attract shoppers into its e-commerce platform, Tolda said. Currently, the average Brazilian e-commerce consumer buys an item per month and MercadoLibre wants to intensify the frequency of purchases to at least once a week, Tolda said.
The company recently opened new categories of no-gender fashion and sustainable products in its e-commerce platform to attract younger consumers. It also plans to expand next-day delivery to 16 larger cities, from eight currently, after closing a deal with the cargo unit of airline Azul SA that could help reduce its dependence on the country's post offices.
MercadoLibre has surged 93 percent year-to-date to US$566 on the Nasdaq. That compares to 18 percent for Amazon, 28 percent for Alibaba Group Holding and 39 percent for EBay Inc.
After raising US$1.9 billion earlier this year, including a big chunk of it from PayPal Holdings Inc, MercadoLibre is focusing on investment in its core businesses rather than any bold new acquisitions, according to Tolda. Talks are ongoing with PayPal on how to collaborate in several areas despite being competitors.
"Theirs is a traditional online payment model, and we're seeing even greater potential offline than online," with MercadoPago, Tolda said. "It's an interesting path, this idea of 'frenemy,' that exists in the technology market."
by Fabiola Moura & Vinícius Andrade, Bloomberg