Argentine farmers' worst fears were confirmed Tuesday as the new government proposed an increase in export taxes just three days after a first hike roiled the Pampas crop belt.
Taxes on soybean shipments will reach 33 percent under a bill sent to lawmakers, Economy Minister Martín Guzmán told reporters. That compares with 30 percent now and 24.7 percent last week. Corn and wheat would be charged 15 percent, up from the current 12 percent and 6.7 percent last week.
President Alberto Fernández has a majority in the senate, but he will need to gather opposition votes in the lower house to get the legislation through congress. Approval could come by the end of the month.
The bill has a provision to reduce rates for exports with "added value." That means soy meal and oil may be charged less than 33 percent in a boon to crushers that have lost competitiveness and seen idle capacity rise after the differential with raw beans was scrapped last year.
Argentina is the top exporter of soy meal for animal feed and soy cooking oil.
It's unclear whether beef, the nation's other big farm export, will be considered a value-added product, or whether it'll be hit with a full 15 percent levy.
Fernandez first raised taxes Saturday, just days after he took office, triggering outrage among rural leaders who said they hadn't been told the hike was coming and warned output on the Pampas may shrink. The swift move also put them in a panic about more increases -- though even Tuesday's double whammy wasn't expected.
"We are deeply worried about the latest measures," one of Argentina's biggest farm associations, CRA, said in a statement moments before Guzmán spoke.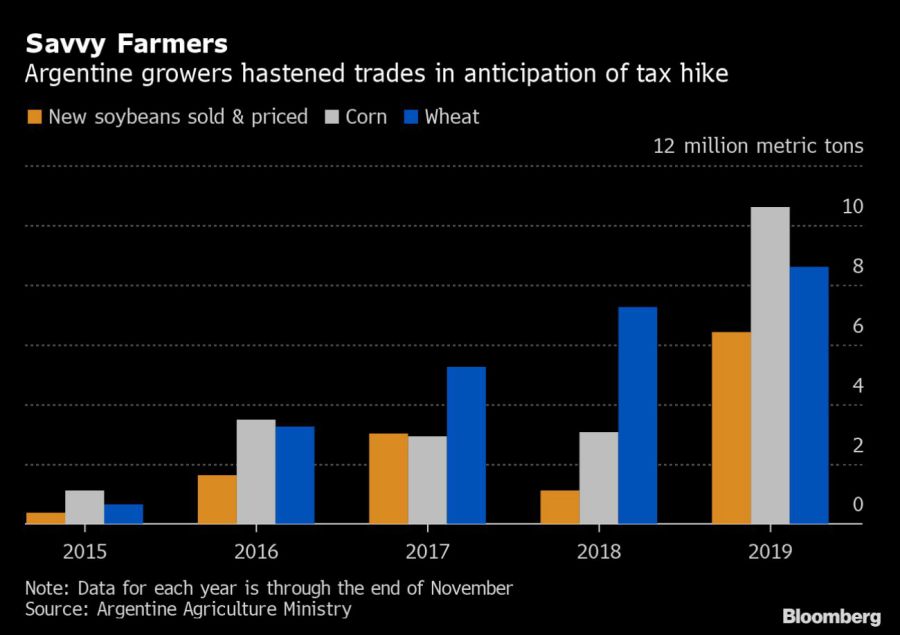 Even though the new president wants to spur exports to bring in the dollars needed to revive the economy and pay debts, farmers are concerned that hostile attitudes toward agriculture, prevalent among some officials in his Peronist coalition, will prevail.
With corn and wheat shipments set to be charged 15 percent -- more than double the rate last week -- profit margins will be squeezed. That could force farmers out of crop rotation strategies that proliferated in recent years to plant cheaper soybeans instead, Eugenio Irazuegui, head of research at grains brokerage Enrique Zeni, said by telephone from Rosario.
In any case, the effects of tax hikes now on planting schedules won't be seen until next year. That's because this season's wheat is already being harvested. And it's too late to reverse plans for soybeans and corn, which are being sown.
However, with a large proportion of those crops already traded by savvy growers who anticipated the increases, there could be an impact on global grain markets as farmer selling slows "considerably," raising concerns about Argentine supplies, Jacob Christy, a trader at Andersons Inc., said in a video posted online.
--BLOOMBERG
by Jonathan Gilbert, Bloomberg