Advantage River Plate.
The reigning Copa Libertadores champions are in pole position to reach the final of the region's most important club competition for a second year running, after defeating Boca Juniors 2-0 at the Monumental on Tuesday night. It wasn't a good night for Gustavo Alfaro's side – River were much the stronger side and could've won by a larger margin.
The victory over their arch-rivals was relatively straightforward in the end for Marcelo Gallardo's side, with the Millionario much more the creative side throughout. Boca, seeking to keep it tight in Nuñez, only created one quality chance despite their huffing and puffing.
Tuesday night's match was a rematch of last year's dramatic and troubled final, which was dramatically switched to Spain for the first time in its history because of fan violence prior to the second leg. The Xeneize will need to up their game in three weeks time at La Bombonera if they are to get their revenge for last season's loss in Madrid.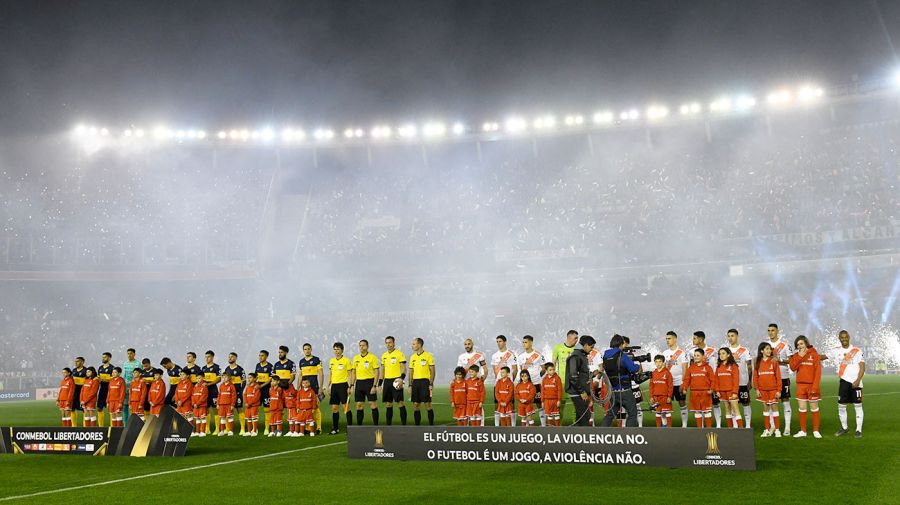 On a chilly, wet evening in Buenos Aires, there was thankfully little violence to report this time around, though the authorities took no chances.
Prior to the match, the Monumental was swept by explosives teams, checking for devices, while fans were not allowed in without their documents, which were then checked against the names of hooligans registered under the Security Ministry's Tribuna Segura programme. Meanwhile, CCTV monitoring was in operation across the barrio, with over 120 cameras linked into a single surveillance system, which incorporated facial recognition technology.
Traffic was also affected, with roadblocks set up on a number of avenues in the area close to the stadium and the sale of alcohol banned within 500 metres of the stadium before and after the match. More than 1,500 extra security officials had been drafted in to ensure the match passed off without incident.
PERFECT START
On the pitch, temperatures were running high from the off and it was hosts River got off to the perfect start after a controversial VAR-aided penalty award.
The technology was called on to work out exactly what happened in the aftermath of a save by Boca goalkeeper Esteban Andrada. After Nicolás De la Cruz's shot, Matías Suárez was tackled by two Boca players. After a long delay, the officials decided Emmanuel Más had committed a foul.
Moments later, after a second delay due to the complaints of Boca's players, Rafael Santos Borré stepped up to slam the penalty home on seven minutes.
Boca then responded with a good mid-distance hammer from Alexis MacAlliter that forced River keeper Franco Armani into a full-stretch save. Minutes later, De la Cruz's clever free-kick forced Andrada into another smart save.
The Millo then dominated the rest of the half, except for one glorious chance for Boca created by their bulldozing centre-forward Ramon Ábila, who up until then received little support from the Xeneize midfield. The barrel-chested forward used his strength and cleverly laid off the ball to Nicolás Capaldo, who then lashed the ball high and wide with the goal gaping.
At half time, River led 1-0 and they carried their momentum into the second half. Moving the ball quickly, they had more possession and were creating more with it. Boca were reduced to lumping balls toward Ábila, in the hope that something would stick.
Boca made changes, but still River came. Gonzalo Montiel crossed and hit the post, Matías Suárez couldn't put in the rebound.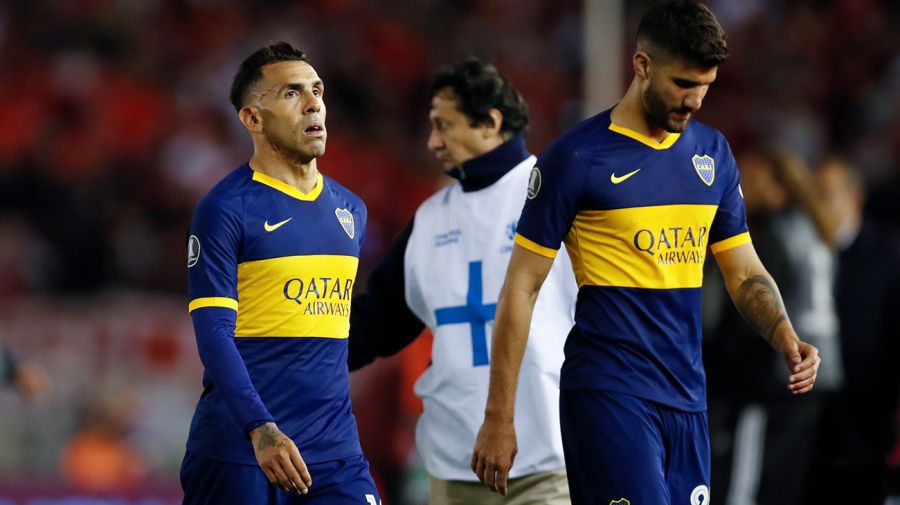 DOUBLED LEAD
Soon, River doubled their leave with a great move characterised by speedy exchanges. Ignacio Fernández slotted home from Suárez's cross, sparking celebrations among the 70,000-strong Millo faithful.
It could have got worse too. With nine minutes remaining, Boca keeper Esteban Andrada made a fantastic save to keep his side in the tie. In the 92nd, he was at it again, making another crucial save to stop his side falling even further behind.
In the sixth minute of injury time though, one more twist of the knife arrived for Boca. The team was reduced to 10 men, after Nicolás Capaldo received a second yellow card for a foul on Enzo Pérez. The decision had clearly come from VAR officials, with Brazilian referee Raphael Claus called on to consult the pitchside screen.
All in all, a tough night for the Xeneize, who were not happy with the referee. Both coach and players complained about the decisions, surrounding the official at full time.
Despite the loss and its manner, however, there is still much to play for. Boca have 90 minutes left to turn around the tie.
"This match is not the decider. We hope to win and reach a good result, but if we don't get it we will have another chance, we are dangerous visitors," said River coach Marcelo Gallardo, speaking before the match.
The second leg takes place on October 22, in three weeks time at La Bombonera.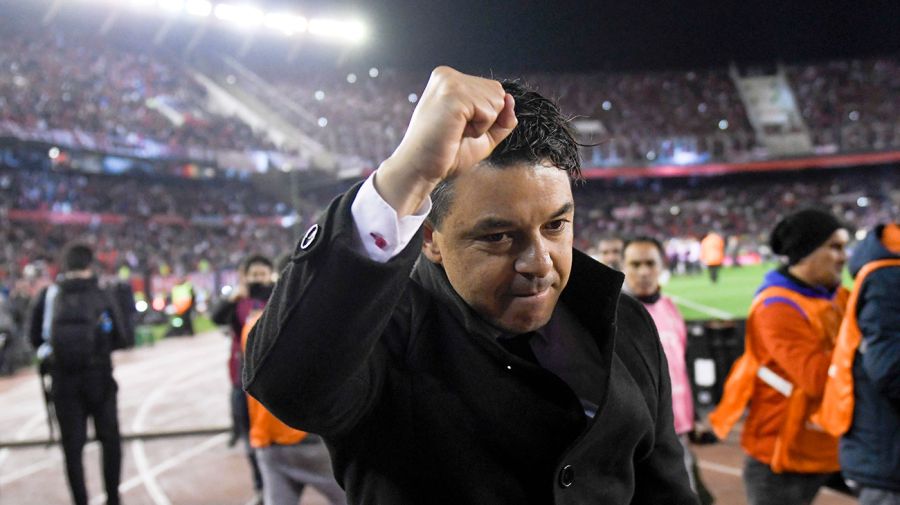 Potential final opponents
In the other Libertadores semi-final, 2017 champions Grêmio are looking to striker Everton to help them advance against Brazilian championship leaders Flamengo.
"Flamengo is the favourite for sure," said Grêmio coach Renato Portaluppi. "But I am very calm before this clash, I trust my group a lot. We have a lot of Libertadores experience."
Grêmio captain and defender Pedro Geromel is expected to sit out the match, which kicks off 9.30pm local time Wednesday, due to injury. Flamengo are untroubled by injuries as the Rio de Janeiro giants chase their second title and first since 1981.
Grêmio is seeking its fourth South American crown, while Boca seeks a seventh and River goes for their fifth.
This year's final is on November 23 in Santiago.
STATS AND DATA
River Plate 2 Boca Juniors 0.
Goals: Borré (7th minute, penalty), Fernández (70th)
Stadium: Monumental, Nuñez.
Referee: Raphael Claus (BRA)
Yellow cards: River Plate – Fernández (45+2), Pérez (57), Pinola (86); Boca Juniors – Mas (11), Izquierdoz (35), López (44)
Red cards: Boca Juniors – Capaldo (90+7)
Line-ups:
River Plate: Franco Armani - Gonzalo Montiel, Lucas Martínez Quarta, Javier Pinola, Milton Casco - Ignacio Fernández, Enzo Pérez, Exequiel Palacios, Nicolás De La Cruz (Julián Álvarez 86) - Matías Suárez (Lucas Pratto 90), Rafael Santos Borré (Ignacio Scocco 65). Coach: Marcelo Gallardo.
Boca Juniors: Esteban Andrada - Marcelo Weigandt, Lisandro López, Carlos Izquierdoz, Emmanuel Mas - Franco Soldano (Carlos Tevez 55), Nicolás Capaldo, Iván Marcone, Alexis Mac Allister (Mauro Zárate 77), Emanuel Reynoso (Eduardo Salvio 72) - Ramon Ábila. Coach: Gustavo Alfaro.
– TIMES/AP/AFP