The Albiceleste's grand old man Luis Scola knocked down a series of key buckets in a fourth quarter surge Tuesday to crush Serbian hopes and propel the South Americans into the semi-finals of the FIBA Basketball World Cup.
Scola, 39 years old and the last remaining member of Argentina's "Golden Generation" that won the Olympics in 2004, finished with a team-high 20 points in the 97-87 win.
Team-mate Facundo Campazzo finished with 18 points and 12 assists.
"Campazzo absolutely dominated the game," Serbia coach Sasha Djordjevic said of Argentina's 5-foot-10 point guard, who dazzled throughout. "Absolutely dominated the game. This is his victory."
The outcome leaves the Albiceleste undefeated at the World Cup, hosted this year by China, and headed for a Friday match-up against the winner of USA-France, who tip off on Wednesday.
Scola said it was a total team effort.
"I think we played a very good basketball game," Scola said. "We're a good team. We've played a great tournament and we deserved to win. It means a lot."
Serbia was considered the pre-tournament favourites by many, and came in expecting to win gold after losing title games to the US at the 2014 World Cup and 2016 Olympics. Argentina had other plans and Scola made a very loud statement after the game – this outcome, he insisted, was no fluke.
"It just bothers me that people keep talking about miracle, keep talking about surprise, keep talking about nobody believing," Scola said. "I'll tell you, there were 22 people that believed for the last two months that we were going to be here. That's all we need, just 22. We've got them and this is far from a miracle."
Catch-up
For the Serbs, shooting guard Bogdan Bogdanovic of the NBA's Sacramento Kings led all scorers with 21 points, while Denver Nuggets big man Nikola Jokic added 16.
The bigger Serbians, who had looked dominant in group play behind do-it-all centre Jokic, had to play catch-up against the quick Argentines throughout their quarter-final contest in Dongguan in southern China.
Serbia finally grabbed a 70-68 fourth quarter lead on a three-pointer by the Memphis Grizzlies' Marko Guduric and looked like they might make amends for a frustrating 81-69 second-round loss to Spain, the only blemish in their World Cup campaign to that point.
But that's when Scola stepped up, scoring eight rapid-fire points in a 21-6 Argentina run that dropped the curtain on Serbia's World Cup.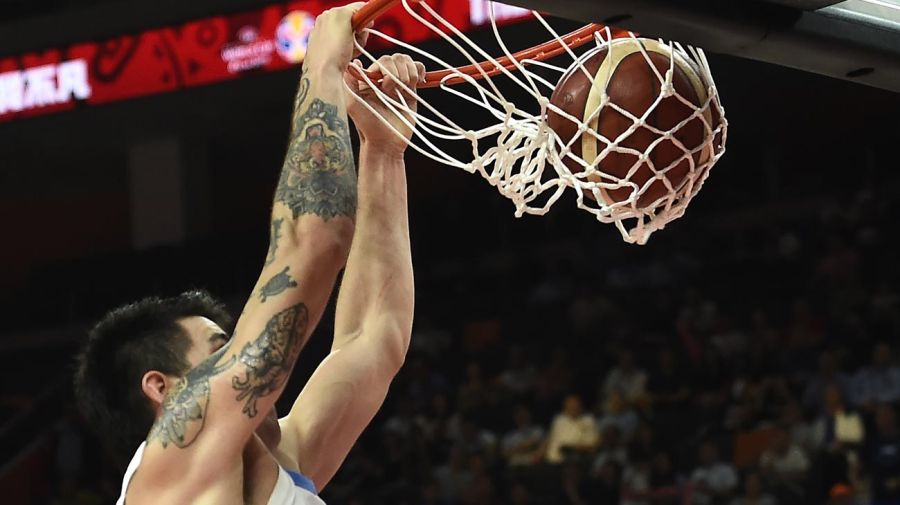 "We believed it. It wasn't impossible. We have a great team and we have great energy," said Albiceleste forward Patricio Garino.
Scola is by far the oldest player in the relatively young Argentina squad.
"The way we played today is an example of what we want to do over the years," Garino said.
Argentina were the more fluid of the two teams throughout the game, moving the ball well and spreading out the scoring.
Serbia had looked like title contenders after demolishing their opponents in the group phases by a average 40.8 points per game.
But the subsequent loss to Spain rocked the Serbs and they never seemed able to find a consistent rhythm against a pesky Argentine defence.
Jokic was valiant in defeat as his team relied heavily on him, but he got little support for most of the game from his team's long-range shooters, who had been among the most accurate from the three-point range throughout the tournament.
"We should have played better defence and more concentrated. The toughest matches are the quarter-finals but now we have lost the chance to win a medal," said Bogdanovic. "The best thing we can do now is to fight to at least be the fifth."
AP ANALYSIS
TIP-INS
Serbia: Boban Marjanovic had a short and eventful second-quarter stint – picking up three fouls, one of them an unsportsmanlike, and committing a turnover in just over 2 minutes. Serbia grabbed 15 of the game's first 17 rebounds and finished with a 42-29 edge.
Argentina: By the midway mark of the first quarter, the Argentines had two fouls and another with three – Tayavek Gallizzi, who was whistled three times in 82 seconds after he came in because starter Marcos Delia was in foul trouble. The Olympic berth Argentina claimed by being one of the top two World Cup finishers from the Americas region – the US is the other – is its fifth straight and eighth overall.
SCOUTING
The US sent its scouting group – Jeff Van Gundy, Lloyd Pierce and Ime Udoka among them – to see the Argentina-Serbia game in person. US coach Gregg Popovich said he's watching plenty of games on off days, but is letting the group led by Van Gundy handle the bulk of the scouting details.
BONUS PRIZE
Argentina gets more than a trip to the semi-finals – it gets an extra day off. After playing every other day so far in the tournament, Argentina will have two full rest days before seeing either the US or France on Friday.
UP NEXT
Serbia: Faces US-France loser on Thursday at Dongguan in the consolation round.
Argentina: Faces US-France winner on Friday at Beijing in the semi-finals.
– TIMES/AFP/AP