A rookie lining up in the Superclásico, and Enzo Pérez donning the gloves for a key Copa Libertadores match, all in the space of 72 hours. It has been an eventful week indeed for River Plate between the goal-posts.
The Millonario nightmare began on Saturday, the day before taking on Boca Juniors in the Copa Liga Profesional quarter-finals. Fifteen players were at a stroke ruled out for the derby after testing positive for coronavirus. That was inconvenient enough; but among that group were all four of the side's principal goalkeepers, leaving Leo Díaz to start his first-ever match (the youngster had not even played for the River reserves) in as intimidating an atmosphere as the Bombonera.
Díaz held his own even as River went down on penalties, thus ending a positive streak of five knock-out wins over their arch-rivals that stretched back to 2004. Even worse was to follow, though. More Covid-positives followed, and CONMEBOL rejected the club's petition to register the rookie or any other players in their Libertadores squad, leaving them with just a bare 11 to take on Santa Fe on Wednesday, and no goalkeeper whatsoever. The man chosen to pull on the green jersey was Pérez, who under normal circumstances would not have been anywhere near the Monumental after suffering a muscle injury at the weekend. In such inauspicious circumstances, a legend was born.
The non-romantics among us will argue that the midfielder in fact had a quiet evening as, even with no substitutes and fielding out of necessity debutants Tomás Lecanda and Fabian Peña, River pulled off one of the most remarkable victories in Libertadores history. Santa Fe endured a wretched 90 minutes, barely managing to trouble Pérez and going down 2-1 to the unrecognisable hosts. Marshalled by the implacable Jonathan Maidana, the Millonario defence formed a barrier so formidable as to make the Great Wall of China look like your average garden fence, while at the other end Julián Álvarez pulled off the performance of a lifetime to keep the Colombians on the back foot. Not only did Marcelo Gallardo's men emerge worthy victors on the pitch, but they also took a couple of unexpected scalps: such was the morbid fascination that the game attracted that it pulled down over 20 television rating points, beating out free-to-air heavyweights Masterchef and Marcelo Tinelli's Showmatch (another defeat for the beleaguered San Lorenzo president, on leave at the club) and setting a new record for a group stage match.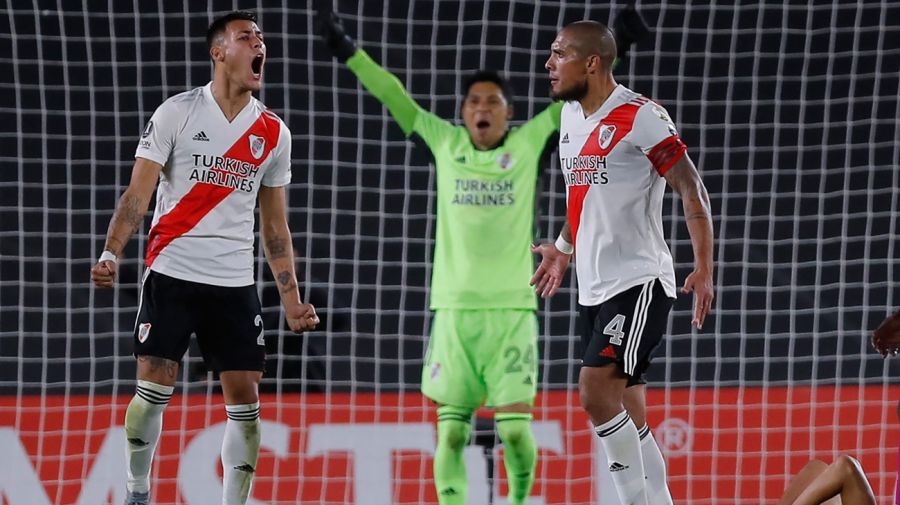 The night, though, was all about Pérez, from his nervous pawing of the first ball to threaten his net, wild celebrations with a (hopefully Covid-free) ballboy when Álvarez scored River's second and visible emotion when the hosts survived a late onslaught to take all three points. "It was my debut and farewell match in goal," he laughed to ESPN after the game. "It is a very difficult position. When you are playing the goal looks small and yesterday when I had to keep [net], it looked immense to me."
With any luck it will be Pérez's first and last taste of football's loneliest position. Franco Armani and the rest of the River cohort should make next week's Libertadores decider against Fluminense with a clean bill of health, albeit by the skin of their teeth as the clash falls exactly 10 days after testing positive. Gallardo's men need just a draw to secure passage to the next round, while even defeat could suffice as long as Junior fail to beat their humbled compatriots. It is testament to the spirit the coach has built around the Monumental these last seven years that a week that threatened to end in catastrophe instead went down into club folklore, in no little measure thanks to the commitment and courage instilled by Millo icons like Maidana and their crocked but defiant makeshift keeper.