Footballer Mara Gómez says she intends to continue progressing "without any kind of ceiling," after becoming the first transgender player to have taken the field in a match in Argentina's women's championship.
"Today I started and I can believe that things are happening, that they are succeeding," said Gómez, despite her team Villa San Carlos's loss 7-1 against Lanús, in the second fixture of the Torneo Transición 2020.
Gómez made history with her debut in women's football on Monday. She is the first transgender person to have been authorised to play in the league by the Argentine Football Association (AFA).
"I'm happy to be able to play in the women's league. It took long struggles, a winding road and much suffering to be here today. This is not an individual conquest but a social and collective issue," the 23-year-old told a press conference in Berisso, just outside the Buenos Aires provincial capital of La Plata.
Gómez said she was "very grateful" to Villa San Carlos for the support she has received.
"They always included me, they made me [feel] part of the team, they treated me like one of the girls," she highlighted about her teammates.
"Villa San Carlos is up to fighting everything, not only any match but also against any social stereotype," said Gómez.
'Historic moment'
During another press conference last Friday, Gómez already anticipated a "historic moment at the global level."
AFA granted the footballer permission to become the first transgender player to step foot on the pitch on November 28, though she was not then available to play the following Monday.
"As from today I'm officially a player in the top division of Argentine women's football," Gómez wrote in a post on social networks that day, hailing the breakthrough.
"For me this is a very important achievement because I had the strength to dribble past everything placed in my way, what society imposed on me in having to comply with stereotypes, norms, patriarchal conduct following an either/or logic," she affirmed.
"I'll be fulfilling one of my biggest aims in life. Something I thought to be indispensable but was never going to happen," said the player, who was recruited by bottom-of-the-table Villa San Carlos after finishing top-scorer for two seasons running in a local women's league in La Plata.
Gómez added: "It was a long road with many obstacles, much fear and sadness. Like the day I thought I was never going to be anybody, that I was never going to have the opportunity to be happy in life – today that's all changed."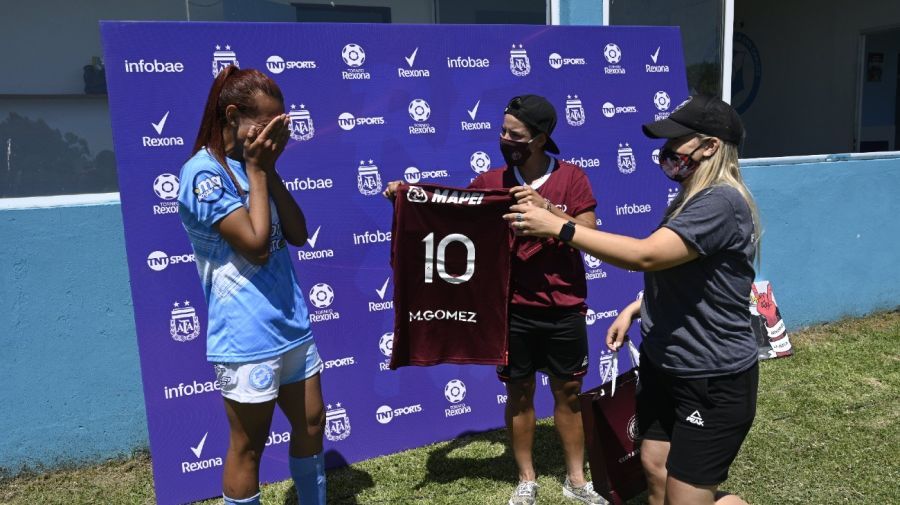 'Like therapy'
Argentina led Latin America by passing a ground-breaking gender identity law in 2012, which allowed Gomez to officially change her gender on her national identity card when she turned 18. Law 26,743 obliges transgender persons to be treated in accordance with their gender identity as they themselves perceive it.
Lorena Berdula, the player's representative who was present at last week's press conference, denied claims that Gómez enjoyed any sporting advantage over the other women footballers.
She confirmed the footballer has signed an agreement with the AFA, which requires her to undergo hormone treatment and that Gómez must also submit to testosterone measurements at the start of and in the middle of every tournament, to remove any suspicion of an athletic disparity with the other players.
Mara began playing football at the age of 15, encouraged by her friends and local neighbours, after suffering situations of "discrimination and exclusion."
Speaking last week, she said she had contemplated suicide "any number of times," finding peace only on the pitch.
In Argentina, transgender women have an average life expectancy of just 32 to 40 years.
Football "was like therapy for me. It really gave me the contention I needed at that time," said Gómez.
"I've had to overcome a whole bunch of obstacles, adversities, which I've faced not only in sport but also in life due to my sexual orientation."
'This is football'
Figures in the game have offered support for the player's attempts to meet history, while rivals have also backed her historic quest.
On Monday, as she took to the field, Gómez was given a Lanús shirt with her traditional number, 10 (she wears 7 for her current side), and her first and last name, as a gift.
"It was moving, I wasn't expecting it, that a rival team would give me a shirt and notice me," she said after the game. "That means that they support me and my fight for this to happen. This is football!"
– TIMES/AFP