As President Alberto Fernández moves into the Casa Rosada with plans to quickly renegotiate Argentina's sovereign debt, holders of government bonds covered by domestic laws are bracing for particularly steep losses.
They anticipate that the government will impose harsh terms in a bid to restructure its obligations to more sustainable levels, and that investors will have little recourse with courts that are likely to be friendly toward the administration. The first preview of what's to come may arrive Wednesday, when Economy Minister Martín Guzmán is scheduled to discuss outlines of the new government's economic agenda.
Pessimism is already reflected in prices for the bonds, with dollar-denominated notes covered by local laws trading below 40 cents on the dollar, a discount of about 25 percent relative to those under New York jurisdiction. Of course most investors knew of this very risk when they purchased the securities, which were issued when Argentina was still embroiled in a nasty feud with creditors who got burned in a 2001 default that left the country locked out of international debt markets.
"It's almost certain the foreign-law holders are going to get a better deal than the local-law holders," said Paul McNamara, an investment director at GAM UK in London. "What we've consistently found is that when you have debt under local law, you have no recourse to negotiate."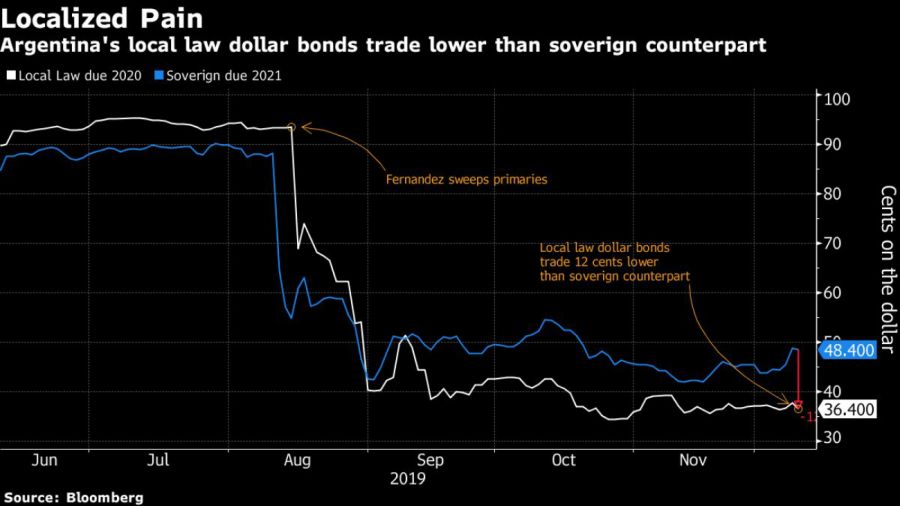 Fernández has reason to act aggressively on the local-law bonds, which are denominated in both dollars and pesos. Almost 70 percent of the government's debt payments next year stem from domestic securities, according to data compiled by Daniel Chodos, a Credit Suisse strategist in Buenos Aires. Imposing harsh terms on these notes could help the government buy time as it readies for talks with investors in debt covered by New York law.
A spokesman for Fernández didn't immediately respond to a request for comment about plans for how to treat various creditors. Fernández's team has given few specifics about any restructuring in public comments, other than saying that they are seeking minimal losses for investors.
While holders of bonds covered by New York law can seek to litigate their dispute if a sizable enough percentage disagree with the terms offered by Argentina, it would be a lot harder to do so for investors in the local notes.
"Winning a claim against the government in a restructuring in local law is extremely hard," said Juan Manuel Pazos, the chief economist at TPCG in Buenos Aires. "And even if you did, collection would be impossible. No one can win in Argentine courts."
Most of the domestic-law bonds count local mutual funds or insurance firms as their biggest holders, though a few are predominately held by large foreign firms. That's prompted speculation that the notes dominated by overseas players could get more favorable treatment in a restructuring because the government will want to maintain friendly relations with companies they will need to invest in the country.
Before Guzmán was named as economy minister, he said the next government should seek to postpone payments over the next two years to avoid a social disaster and allow time to shore up the budget. The country has about US$7.1 billion in principal and interest payments on hard-currency local-law bonds due next year, and will owe another US$8.3 billion for peso-denominated debt, according to data compiled by Credit Suisse.
"Regardless of the restructuring process, the debt plan has to be comprehensive, and foreign and local law have to be treated fairly," said Paula Gandara, head of research and strategy at AdCap Securities in Buenos Aires. "If the plan is coherent, it could be possible."
– BLOOOMBERG
by Scott Squires, Bloomberg
In this news