In an historic vote that serves as a culmination of decades of feminist struggle, Argentina's Senate on Wednesday approved a bill to legalise elective abortion in the first 14 weeks of pregnancy.
After a marathon debate in the upper house that stretched into early hours of the morning, senators backed the government's initiative with 38 votes in favour, 29 against and a single abstention – a more comfortable margin of victory than most had anticipated beforehand.
"It becomes law," Senate President and Vice-President Cristina Fernández de Kirchner announced from the chamber, after more than 12 hours of debate.
The result prompted wild celebrations on the streets of Buenos Aires and cities across the country, as pro-reform campaigners outside Congress clad in green hailed the victory.
Hundreds of thousands of illegal abortions are carried out every year in Argentina and pro-choice campaigners have for years urged authorities to put an end to dangerous backstreet terminations by legalising the process.
When President Alberto Fernández signs the bill into law, Argentina will become one of only three countries in Latin America to approve elective abortion.
"Today we have made history," Women, Gender and Diversity Minister Elizabeth Gómez Alcorta told reporters in the immediate aftermath of the vote, paying tribute to the efforts of activists from the Campaña Nacional por el Derecho al Aborto Legal Seguro y Gratuito (National Campaign for the Right of Legal, Safe and Free Abortion), who have led the struggle for abortion rights for years.
"We are very happy, because this law is the result of a decades-long fight by women, by campaigners, by people from different political parties," Legal and Technical Secretary Vilmar Ibarra, one of the author's of the bill, told local media outlets, her voice breaking with emotion.
The vote overturns a similar one in 2018 which, having passed the lower house, was ultimately defeated in the Senate by 38 votes to 31.
Only Uruguay, Cuba and Guyana allow voluntary terminations in South America, which has some of the most restrictive abortion laws in the world. In El Salvador, Honduras and Nicaragua, it is banned, and women can be sentenced to jail even for having a miscarriage. In Argentina, terminations were allowed in only two instances: rape, and danger to the mother's life.
Human Rights Watch Americas Director José Miguel Vivanco hailed the decision as a historic step, and hoped it would energise other governments to legalise abortion in Latin America.
"The criminalisation of abortion has failed. It's time to end it," he tweeted.
Senators also approved a second bill in the coming hours that would introduce a plan to provide comprehensive healthcare for pregnant women in vulnerable situations who choose to carry a pregnancy to term. The so-called '1,000 day plan' would provide support for the first three years of a baby's life.
'I have to legislate for everyone'
The bill to legalise abortion was sent to Congress by President Fernández and passed the lower house Chamber of Deputies on December 11, despite fierce opposition from the Catholic Church and evangelical Christians.
"I'm Catholic but I have to legislate for everyone. Every year around 38,000 women are taken to hospital due to (clandestine) abortions and since the restoration of democracy [in 1983] more than 3,000 have died," said the Peronist leader, as he made the case for the legislation earlier this month.
Signs that the bill would pass into law emerged early in the evening, when a number of previously undecided senators indicated they would back the measure.
"It is a question of rights. The State must choose the continuity of a pregnancy or not according to the autonomy of a woman's will. Maintaining the prohibition [on abortion] will not eliminate the clandestine system that exists," said Senator Stella Maris Olalla (UCR-Entre Ríos), before announcing she would vote in favour.
The debate has cut across party lines, with senators following their conscience. Earlier in the evening, some in the ruling coalition indicated they would reject the initiative. Catamarca Senator Inés Blas (Frente de Todos) said that she would not back the bill.
"The interruption of a pregnancy is a tragedy. It abruptly ends another developing life," she told the chamber.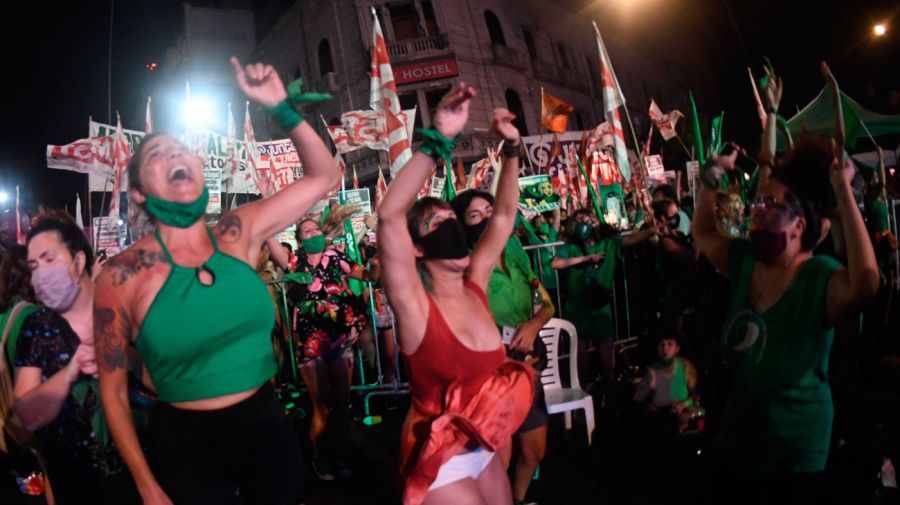 However, Senator Silvina Garcia Larraburu, again from the ruling coalition, said she would vote for the bill this time despite voting against it in 2018.
Among those who won praise for their contribution to the debate was opposition Senator Gladys González (PRO-Buenos Aires Province), who shared details of her personal experience with sex education, pregnancy and religion.
"I grew up with the pre-conceived notion that I had to get married and that sex was fundamentally to procreate," she said, referring to her Catholic upbringing. "I did not receive sex education at school. Do we really believe that a Christian condemns a women who decide to terminate a pregnancy? I think not and I do not want to criminalise women who are desperate and full of doubt and sadness when they decide to terminate a pregnancy."
'Born in the streets'
Ahead of the vote, tens of thousands of pro-choice and anti-abortion demonstrators had gathered outside Congress despite coronavirus fears, with the two sides kept apart by security barriers.
"This fight was born in the streets," said Silvia Saravia, a pro-choice activist.
Pro-choice activists have campaigned for years to change the abortion laws that date from 1921, adopting a green scarf as their symbol.
Anti-abortion activists had recently started wearing light blue scarves.
"I know that in the heart of every senator there is love for their children, their grandchildren, and above all a hope that children give us," said anti-abortion protester Karina Muzaquio.
Outside Congress, anti-abortion demonstrators raised crucifixes, prayed and set up displays that simulated tombs, around a giant graphic image of a baby stained with blood.
Across the plaza, pro-choice protesters held signs that reading: "We will never go underground again."
On Tuesday Pope Francis tweeted that "the son of God was born discarded to tell us that every person discarded is a child of God."
While not explicitly mentioning the vote, the Argentine pontiff's comment was interpreted by many as encouraging the senators to vote against the bill.
More than 60 percent of Argentines call themselves Catholic, according to a 2019 survey by the National Council for Scientific and Technical Research (CONICET).
Another CONICET survey this year found more than half of Argentina's Catholics supported abortion only in some limited circumstances – with around 22 percent supporting it, and roughly 17 percent rejecting it in all cases.
The alliance of evangelical churches on Wednesday issued a statement calling it "a sad day."
"Today Argentina regressed centuries in terms of civilisation and respect for the supreme right to life," it said.
Ecstatic pro-reform campaigners dismissed that argument as they celebrated.
"After so many attempts and years of struggle that cost us blood and lives, today we finally made history," demonstrator Sandra Luján, a 41-year-old psychologist, said after the vote. "Today we leave a better place for our sons and daughters."
– TIMES/AFP