Thousands of people demonstrated in cities across Argentina on Saturday to protest against the government and the so-called 'VIP vaccine' scandal.
The '#27F' demonstration, as it was billed on social media, saw opposition leaders, citizens and angry anti-government protesters take to the streets following the revelation that the former health minister had allowed a number of government allies, mid-level officials and their families to skip the queue for jabs against Covid-19.
Ginés González García resigned as the nation's health minister last weekend at President Alberto Fernández's equest after it emerged that journalist Horacio Verbitsky, a friend, had been able to skip the line for inoculation against the novel coronavirus.
On Saturday, protesters carrying signs reading "Give me my vaccine," "Enough wasting our money," and "Stop wasting our money" gathered outside the Casa Rosada in the Plaza de Mayo in Buenos Aires.
"They started by vaccinating friends of the government. It is not appropriate. They are stealing someone else's life," protester Irene Marcet told AFP.
Demonstrations also took place outside the Olivos presidential residence on the outskirts of the capital and in cities and towns across Argentina, including Mar del Plata, Mendoza, Rosario and Córdoba.
The rally had been promoted on social media as an 'Argentinazo' by sectors that oppose the government. Though it did not have the formal support of the opposition Juntos por el Cambio coalition, many leaders from the group were in attendance, including ex-security minister Patricia Bullrich, ex-agriculture minister Luis Etchevehere and ex-head of public media Hernán Lombardi. Other opposition politicians, including Mario Negri and Martín Lousteau also attended.
Former president Mauricio Macri posted a message on his social media accounts expressing his "pride" over the protest.
"Excited and happy to see how Argentines mobilise once again, showing that they are not going to allow abuses and abuses of the government," said the PRO leader, who is in isolation after returning recently from a trip to Qatar, where he celebrated his 62nd birthday.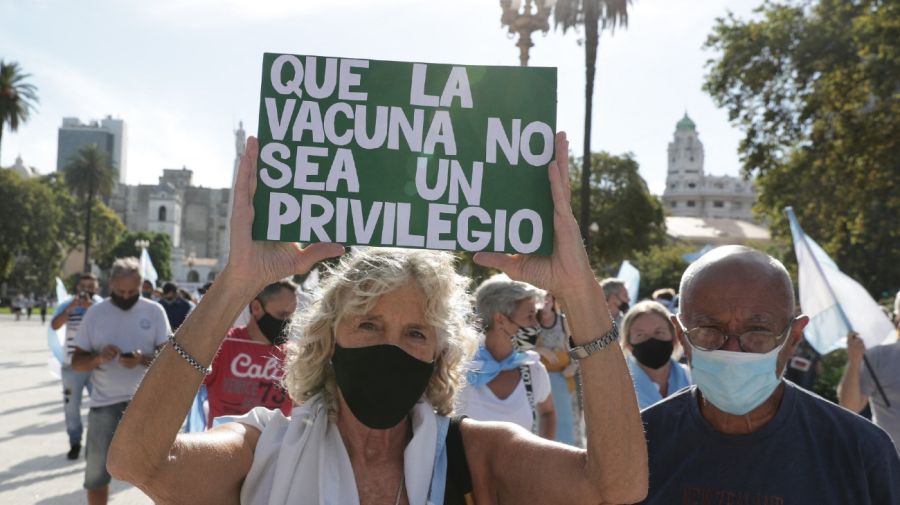 Revelations
Since Argentina began vaccinating its people, only healthcare workers had received the jab until Wednesday, when over-70s in Buenos Aires province were also invited to be immunised. Teachers are set to begin receiving jabs in the coming days, following last week's arrival of a new shipment of vaccines from the Chinese laboratory Sinopharm.
On Monday, the government released a list of 70 people who received the vaccine outside of the official campaign, which included 38-year-old Economy Minister Martín Guzmán and former president Eduardo Duhalde, his wife and their children.
The Fernández administration admits that some individuals were vaccinated out of turn but says some (such as Guzmán) were given shots because they are "strategic personnel."
González García's departure, however, has failed to put a lid on the scandal. Opposition lawmakers believe there are likely others who received jabs out of turn, in addition to those already disclosed, while many citizens remain angry at the revelations.
"That they have vaccinated the wrong people – by age or by proximity to power – does not surprise me because it is typical of these people," protester Ángel Scodpa told AFP.
With a population of close to 45 million, Argentina has registered more than two million infections and around 52,000 deaths from coronavirus.
One million people have already been inoculated, according to government data released Saturday.
To date, Argentina has received 1.22 million doses of the Russian Sputnik V vaccine, around 580,000 doses from Covishield, from India's Serum Institute, and 904,000 shots from Sinopharm.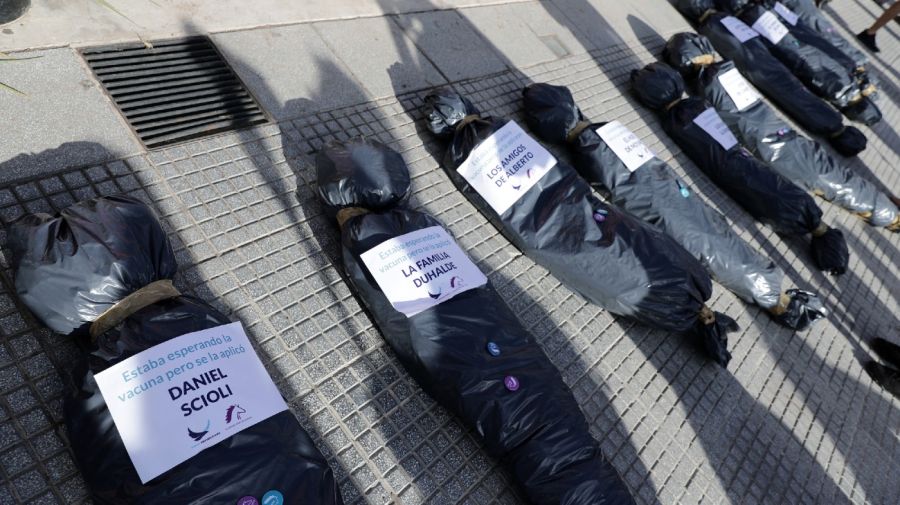 Body bags
As people protested on Saturday, one group of anti-government demonstrators sparked controversy by carrying effigies of those they allege lost their lives as a result of the scandal.
On the railings in front of the Casa Rosada, the seat of the government and the president's office, protesters hung mock black body bags with the names of pro-government leaders who had been vaccinated.
The eye-catching intervention sparked anger among government circles, while President Fernández condemned the act.
"The way to demonstrate in a democracy cannot be to display mortuary bags with names of political leaders in front of the Casa Rosada," he tweeted. "This regrettable action only shows how many opponents see the Republic. Let us not be silent before such an act of barbarism."
A number of government politicians took to social media to express their repudiation of the tactic, while saying they respected the right of those opposed to demonstrate.
"Protests and criticism are valuable in a democracy, but these images show the country we do not want to return to. Even with our mistakes, we will never be this," said Legal & Technical Secretary Vilmar Ibarra.
Some opposition politicians broke ground with demonstrators to condemn the tactic, while observing that the problems ran deeper than just a few vaccinated out of turn.
"President, there are many of us who repudiate this despicable form of protest," wrote Lousteau in a post on Twitter, responding to the president. "There are also many of us who hope you apologise for the poor management of vaccines."
In general, Saturday's demonstrations took place without incident, apart from some friction between protesters and union activists in front of the Olivos official residence, where tensions briefly surged.
The scandal has dealt a blow to the government, which hoped the rollout of its mass vaccination programme would be a significant achievement.
Analysts remain split over whether the impact will weaken the ruling coalition's changes in the October midterms.
"It is too early to know. It depends on the seriousness of the reaction, said political analyst Andrés Malamud, "If you get 30 million vaccines, this will be an anecdote. If not, it will be an aggravation."
– TIMES/AFP/PERFIL