It's no longer winter in Argentina but, even still, the coldest time of the year is the ideal time for one of my favourite road trips: the roughly 500-kilometre triangle from the northwestern city of Salta and back, via the polychrome Quebrada de Cafayate and its high desert wine country, the scenic Calchaquíes valley hamlets of Molinos and Cachi, and the vertiginous zigzag descent through the Quebrada de Escoipe.
The city of Salta deserves detailed treatment in its own right, but that'll have to wait for another moment. Before starting the road trip, though, don't bypass the Museo de Arqueología de Alta Montaña de Salta in the provincial capital, which honours the pre-Columbian cultures of the region, with its strong links to the Incas and their predecessors.
Because it's a circuit, this route is ideal for a rental car or, for those with more time and energy, a bicycle. Southbound from Salta, the smoothly paved road climbs slowly but steadily through the lush Lerma valley but becomes more scenic when it crosses into the valley of the Río de las Conchas, popularly known as the Quebrada de Cafayate. Here, the Sierra de Carahuasi reveals a series of freestanding desert landforms, box canyons and dunes reminiscent of southern Utah or northern New Mexico — not to mention the "gauchos de Güemes" with their flat-brimmed sombreros, black-striped red ponchos, and oversized, stiff leather chaps that protect them from the thorny brush. It's roughly a threehour drive to the town of Cafayate but, with stops to explore the scenery and take photographs, figure a late afternoon or early evening arrival.
With a population of about 15,000, Cafayate is the hub of one of the world's highest winegrowing districts — at 1,660 metres above sea level, it enjoys warm days and cool nights that bring its grapes, most notably the fruity white Torrontés, to perfect maturity.
While the vineyards may be dormant in winter, the wineries are not, and Cafayate has more than half-a-dozen within staggering distance of each other — there's no excuse for a DUI here. On top of that, the traffic moves more slowly and cautiously, in town at least, than it does elsewhere in Argentina, so even slightly tipply pedestrians are safer than they might normally expect in this country.
Calafate has seven wineries in town proper, and another three are within cycling distance; Bodega Nanni and Bodega El Tránsito are literally across the street from each other. My current favourite is the Pequeña Bodega Salvador Figueroa, a Lilliputian locale producing only about 6,000 bottles of classic Malbec, oaked Malbec, and Torrontés per annum. Most of them offer free tours and tasting though, in a few cases, there's a token charge.
TIRED OF TASTING?
When you tire of tasting, one of Argentina's most impressive archaeological sites is only halfan-hour's drive south: the ruins of Quilmes, in Tucumán Province, are the closest thing to Machu Picchu to be found in Argentine territory. It's best to stay in Cafayate, though; a twonight stay should suffice to visit the ruins and most, if not all the wineries.
For those who have never dined on llama steak before, downtown's Macacha (Avenida Güemes Norte 28) is the place to do so. Nearby Heladería Miranda offers wine-flavoured sorbets — the white Torrontés tops the red Cabernet (sadly, says the owner, Malbec grapes do not make good helado).
While Ruta Nacional 68 from Salta to Cafayate is paved, the second day's stretch north to Mol i nos and Cachi is not such easy driving — beyond the village of San Carlos, about 20 km (12 miles) from Cafayate, Ruta Nacional 40 becomes a narrow, dusty and often washboarded road where, however, every curve is a new photo opportunity.
RN 40 is, in fact, legendary as Argentina's counterpart to Route 66 in the western United States. No single song sums up "La Cuarenta" in less than three minutes, but folk-rock singer León Gieco once undertook a musicological road trip, De Ushuaia a La Quiaca, that covered the entire route from Bolivia to Tierra del Fuego in a three-album series (strictly speaking, RN 40 ends at the tip of the continent near Río Gallegos). Oscar-winning musician Gustavo Santaolalla produced the first two albums of the series.
One problem along this route, whose folded sedimentary badlands are only slightly less colourful than those of the Quebrada de Cafayate, is that there's no public transportation between the town of Angastaco, 70km beyond Cafayate, and the cozy village of Molinos, another 32km north. In a rental car or on a mountain bike, it's easily doable but, between Angastaco and Molinos, the road is so narrow and winding that coming face-to-face with an oncoming vehicle is a serious matter — traffic's not heavy, but sound the horn at every curve.
Dating from the 17th century, Molinos features a landmark colonial church with a twin bell tower and one of the best accommodations along the route, the Hacienda de Molinos, whose pepper-shaded patio is also an outdoor dining room (even in mid-winter, afternoons can be warm and sunny here). Molinos is also the last place to fuel up until the town of Cachi and, for cyclists, it also has a comfortable campground.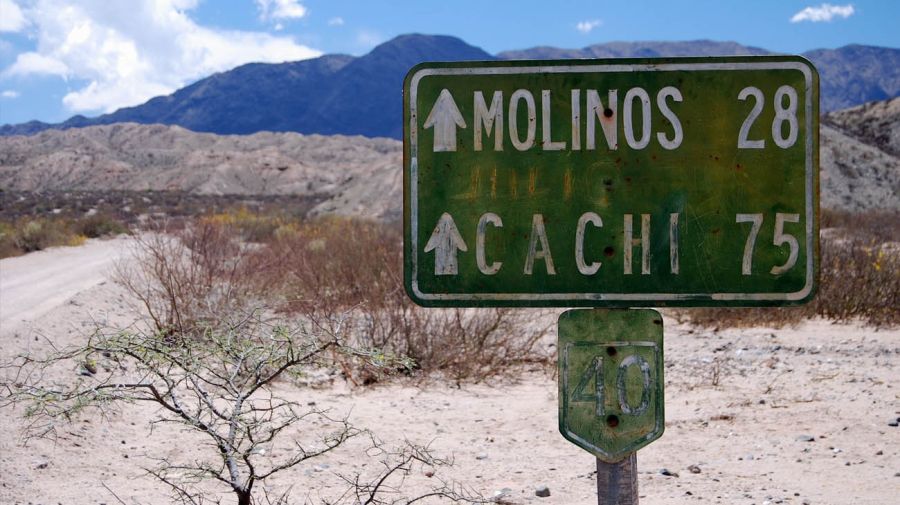 THE WINDING ROAD
The area's top attraction, though, is Estancia Colomé, 18 km southwest via a winding gravel road, where Swiss wine magnate Donald Hess has turned a 19th-century vineyard into a state-of-the-art winery, complete with a modern gallery dedicated to the unconventional light-and-space works of California artist James Turrell. Open for guided tours only — else you might never find your way out — the museum makes a fine complement to the vineyard and winery tour; for those who can afford it, Colomé also has a luxurious nine-suite hotel with a restaurant that's open to the public (the winery offers a light menu throughout the day).
If both Molinos and Colomé are beyond your budget, the town of Cachi is only 27km farther north so that, in principle, it's possible to spend the night there. Cachi enjoys an impressive setting at the base of the 6,380-metre Nevado de Cachi, a snowy summit that rises more than 4,000 metres above the town. It features a shady plaza with an 18th-century church and, opposite that structure, a fine archaeological museum (explanatory text in Spanish only). It also offers a diversity of accommodations for all budgets (my personal favourite is the cozy 15-room El Cortijo Hotel Boutique) and improving restaurant options (where the house wines usually come from Colomé).
Beyond Cachi, RN 40 is paved for 12km to the Payogasta junction, where it continues north toward San Antonio de los Cobres through wild high country that's inadvisable without 4WD. Rather than that longer route, take the southeasterly Ruta Provincial 33, which climbs to the 3,348-metre Cuesta del Obispo, in Parque Nacional Los Cardones, so named for the candelabra cacti that dot the dry highlands here.
RP 33 is paved to the Cuesta, beyond which it's a zigzag descent down the scenic Quebrada de Escoipe — scenic in winter, at least, when it rarely rains. In summer, which is the rainy season here, it's often obscured by cloud and requires caution. Gradually, the province is paving the road to the RN 68 junction, the point of return to Salta — and the end of one of Argentina's most engaging road trips.
There's plenty more, though, to bring visitors back to the Andean northwest at any season.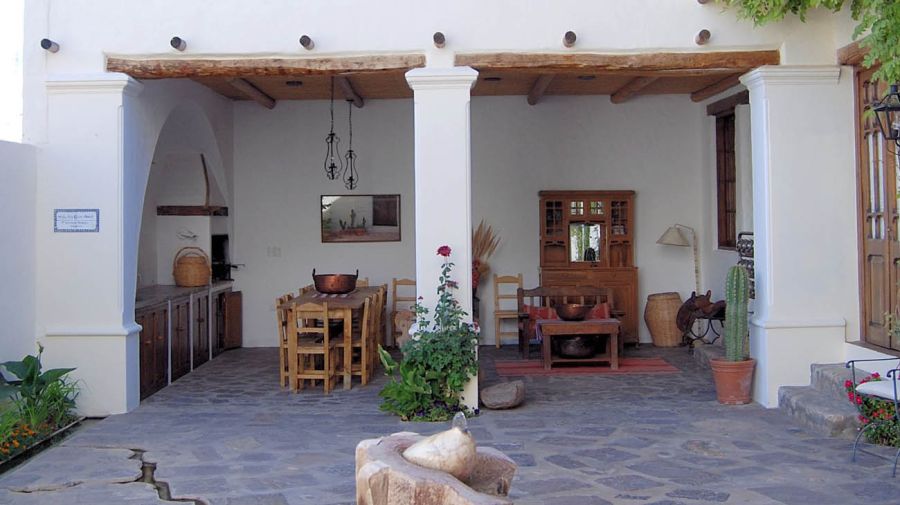 WHERE TO STAY AND VISIT
– Museo de Arqueología de Alta Montaña, Bartolomé Mitre 77, Salta, tel. +54 397 437-0592, www.maam.gob.ar, is a state-of-the-art museum on the pre-Columbian settlement of Argentina's Andean Northwest.
– Hotel Killa Cafayate, Colón 47, Cafayate, tel. +54 03868 422254, www.killacafayate.com.ar, is a rustically styled hotel, set among subtropical gardens, with algarrobo furnishings. Easy walking distance from everything in town.
– Villa Vicuña Hotel Boutique, Belgrano 76, Cafayate, tel. +54 03868 422145, www.villavicuna.com.ar, is a restored colonial-style building with period furnishings. Its three-dimensional patio mural, of folkloric figures from the region, is noteworthy.
– Patios de Cafayate Wine Hotel, Ruta Nacional 40 and Ruta Nacional 68, Cafayate, tel. +54 03868 422229, www.patiosdecafayate.com, is a luxury hotel on the grounds of Bodega El Esteco, at the northern edge of town.
– Bodega El Tránsito, Belgrano 102, Cafayate, tel. +54 3868 422385, www.bodegaeltransito.com, has a cozy downtown tasting room.
– Bodega Nanni, Chavarría 151, tel. +54 3868 421527, www.bodegananni.com, organically certified, produces a diversity of reds in addition to Torrontés despite very limited acreage.
– Bodega Salvador Figueroa, 20 de Junio 25, tel. +54 3868 421289, is a tiny limited production local winery.
– Hacienda de Molinos, Abraham Cornejo s/n, tel. +54 9 3876 848090, www.haciendademolinos.com.ar, occupies a colonial adobe with a central patio shaded by pepper trees.
– Estancia Colomé, Ruta Provincial Km 20, Molinos, tel. +54 3868 494200, www.bodegacolome.com, is the area's elite all-inclusive experience thanks to its renovated colonial accommodations, contemporary winery, and unique art museum in a remote high-altitude location. It also includes one of the region's oldest winery buildings, though that's no longer in use.
– El Cortijo Hotel Boutique, Avenida Automóvil Club Argentino s/n, Cachi, tel +54 3868 491034, www.elcortijohotel.com, features thematically decorated rooms with antique furniture.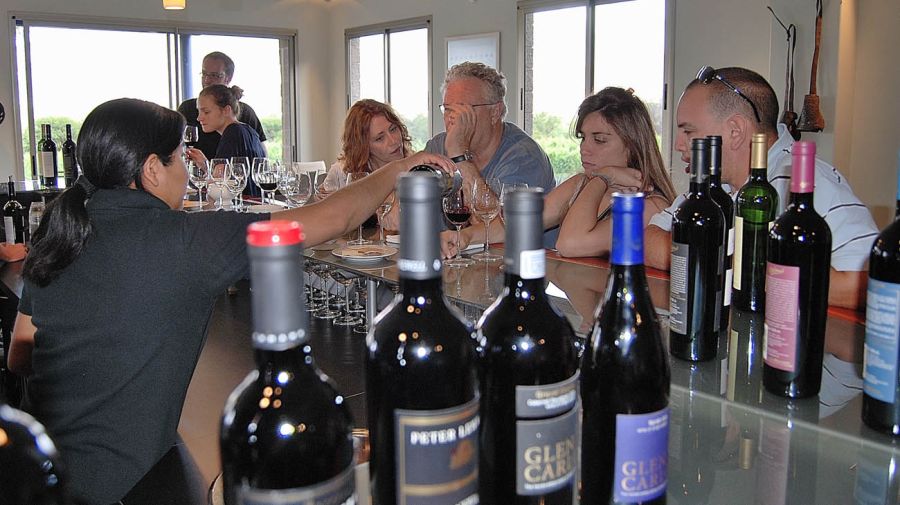 In this news