More than 1,100 financial-technology startups are betting they can profit in Latin America.
Goldman Sachs Group Inc. is betting it can find the winners.
The bank's special situations group is looking to invest in fintechs across the region, amongst a few other industries there, according to Gaurav Seth, a partner who heads the business in the Americas. After helping a firm expand into one of Brazil's largest credit-card issuers, his team says other startups can offer more financial services to a greater share of Latin America's burgeoning population.
"The penetration of overall banking is lower" in the region, Seth said in an interview. Goldman Sachs aims to identify promising ventures and provide them with financing or even equity, scaling it up as warranted. "In any fintech business, if it is successful, it needs more capital," he said.
The interest in Latin American startups is driven in part by Goldman's successful investments with Nu Pagamentos SA, widely known in Brazil as Nubank. Founded in 2013, the firm already has 10 million clients and is the fifth-biggest credit-card issuer in the nation, with a valuation of US$3.6 billion in a fundraising round last year. Goldman loaned Nubank 200 million reais (US$53 million) in 2016, and in August 2017 expanded the credit line to 455 million reais in a deal with Fortress Investment Group.
Earlier this year, the special situations group also agreed to provide Mexico's Credijusto Inc. with a US$100-million facility to support lending to small and midsize enterprises.
Underbanked Markets
The idea is that startups can use their digital platforms to operate more efficiently than local banks, offering low-cost products including loans, and potentially serving consumers previously out of reach. There's room for growth: Bank loans represented 16 percent of gross domestic product in Argentina, 36 percent in Mexico, 49 percent in Colombia, and 60 percent in Brazil in 2017, according to the World Bank. That compares with 191 percent in the U.S. in 2016, the World Bank said.
Yet Goldman isn't alone in spotting the opportunity: The number of fintech startups in Latin America jumped to 1,166 in 2018 from 703 a year earlier, according to a study by the Inter-American Development Bank and Finnovista. The industry attracted about US$695 million in venture capital through 161 deals from 2017 through 2018, according to LAVCA, an association for private capital investment in the region. That was more than any other sector.
Goldman created its special situations group more than a decade ago from a collection of overseas trading desks and lending units. The bank eventually moved the business's earnings from the trading division into its investing and lending segment. This year, it moved again into the merchant bank.
In addition to the fintech industry, Goldman is scouting for opportunities in sectors including real estate, health care, technology, industrials and airlines, Seth said. His team may add employees to carry out the effort, he said, noting that it hasn't set a specific hiring target.
The group has completed more than 15 deals in Latin America, including investments in equity, debt and hybrid securities. It hired Morgan Stanley's former co-head of Latin America investment banking, Marcelo Naigeborin, for the business in Brazil in 2016. The group provides capital to companies from startups, or "early-stage clients," to firms that are "facing stress and need help," Seth said.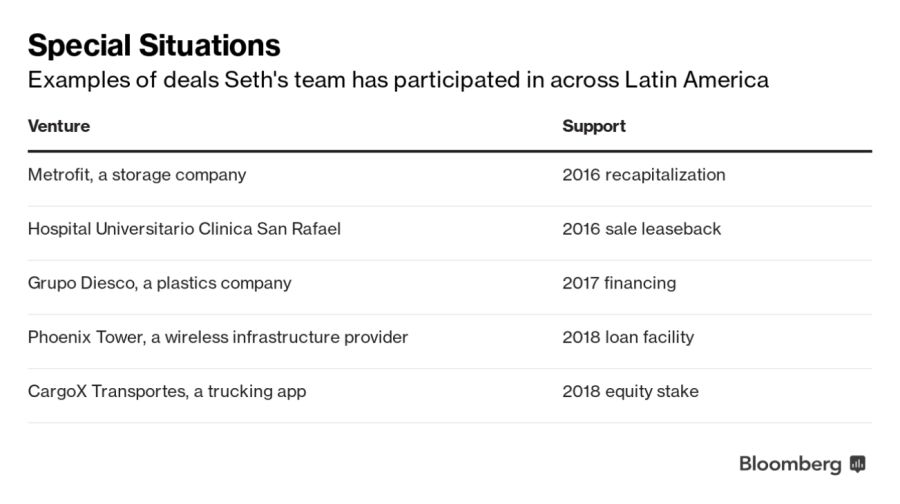 "What we can do is basically help companies that fall out of the traditional banking sector, don't have enough of a track record, don't have enough of a history, or may not be large enough," Seth said. "Latin America is a significant focus for us and a significant area of future growth."
- BLOOMBERG
In this news