Local football marked what would have been the late Diego Maradona's 61st birthday last Saturday with a series of tributes to the superstar captain of Argentina's 1986 World Cup-winning side.
The main tribute to 'El Diez' took place at the La Bombonera stadium where Boca Juniors, Maradona's favourite club whom he helped to consecrate as champions in 1981, faced Gimnasia y Esgrima La Plata, the side he was coaching at the time of his death last November 25.
Hours before kick off, Boca fans could be seen streaming into La Bombonera with banners and masks bearing Maradona's face, including the singular blond streak which was part of his 1995 look when he started his second playing stint at the club.
Maradona's eldest daughter Dalma was present to receive a portrait of the Boca team shirt with the number "10" and the famous surname on its back and a commemorative plaque from skipper Carlos Izquierdoz amid a standing ovation from tens of thousands of emotional fans.
Unable to hold back her tears during the tribute evoking her father, Dalma followed the match from the box purchased by Maradona himself in 1996, accompanied by her younger sister Giannina and ex-Boca striker Daniel Osvaldo.
"Olé ole olé, Diego, Diego," chanted the Boca fans, along with other songs dedicated 40 years ago to Maradona, when the "Golden Boy" was decisive in clinching the Metropolitan Championship that season. He returned for a second spell between 1995 and 1997 as he closed out his playing career.
League remembers
In the 10th minute, giant screens projected a video featuring iconic images of Maradona playing for Boca in the midst of an ovation, while blue-and-gold balloons floated a Boca shirt on high in a ceremony as brief as emotional.
Gimnasia's Luis 'Pulga' Rodríguez, a player who was selected for the national squad when coached by Maradona, dedicated the match's only goal, a penalty, to the superstar by kissing his image on his 'Lobo' shirt.
Maradona last stepped onto Boca's pitch on March 7, 2020, just before Covid-19 was declared a pandemic, in a match when the Xeneize beat Gimnasia by a single goal to crown the side champions of the top-flight Superliga.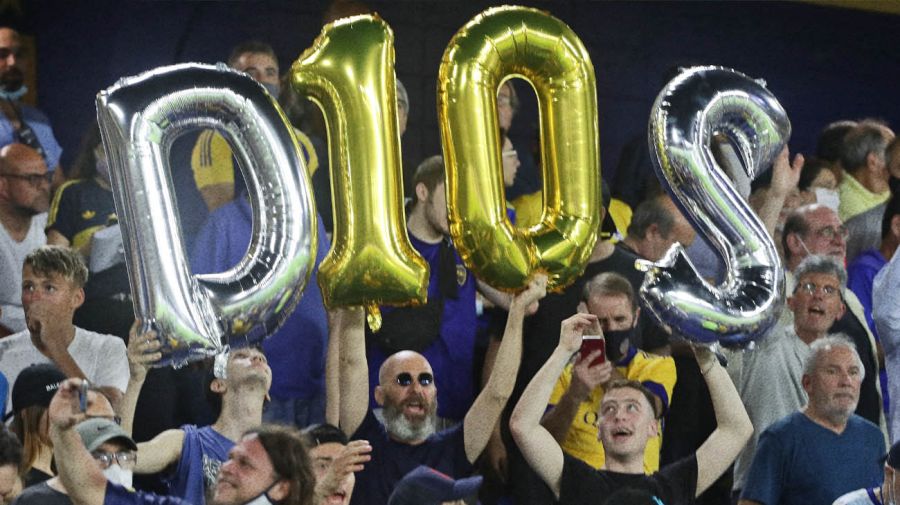 Born on October 30, 1960, in Lanús on the south side of Greater Buenos Aires, Maradona would have turned 61 last Saturday. Argentine football is still mourning one of its biggest stars, owing to a cardiac crisis just a few days after having been operated for a subdural haematoma.
Tributes were held at every top-flight game. At every match of the championship's 19th round, both teams trotted out onto the pitch with a white T-shirt with the image of Maradona stamped on the chest.
In the Professional League's eyes "the first birthday of Maradona without his physical presence and the magnitude of his figure justifies this exceptional tribute just this once."

'Blessed Dream'
At the Mario Kempes stadium in Córdoba, where local side Talleres clashed with Huracán, an enormous flag was unfolded from the roof of one of the stands with the emblematic image of Maradona with a ball at his feet in the build-up to his famous second goal against England in the 1986 World Cup.
At the Diego Maradona stadium of Argentinos Juniors, where the superstar made his First Division debut in 1976, there was a charity benefit festival including a match between players in the 1986 World Cup champion team and other past glories of the national squad.
Argentinos closed out the night with an image of Maradona in virtual reality appearing in the middle of the pitch while via loudspeakers historic audio recordings of the superstar could be heard, such as his memorable line: "My first dream is to play a World Cup and my second to win it."
Commemorations of the legendary star's impact and career also took place off the pitch.
Last Saturday, a 13-metre steel and concrete sculpture of the sporting idol was also inaugurated in the main square of the resort Santa Clara del Mar.
Amazon Prime Video have also recently premiered the biographic series Sueño bendito ("Blessed dream"), which will air across 250 countries in weekly episodes with different narratives of the life of the sporting idol, filmed on location in Argentina, Spain, Italy, Uruguay and Mexico.
Also this week the Argentine government declared Maradona's birthplace in humble Villa Fiorito in Southern Greater Buenos Aires to be a National Heritage Site.
– TIMES/AFP