Argentina's president-elect Javier Milei said in a statement on Monday that there is currently no scheduled meeting with Alberto Fernández regarding the transition of governments, denying speculation that talks scheduled for Monday had been put back.
At the end of a busy day of rumours, talks and interviews, Milei used a new account on the X social network – Oficina del Presidente Javier Milei (@OPEArg) – to refute reports that a meeting with the Peronist head of state was imminent, despite saying on Sunday night that the duo had talked and agreed to organise an encounter.
In addition, Milei and his La Libertad Avanza team said that the responsibility for Argentina's economy until the December 10 handover laid firmly with President Fernández and his economy minister, Sergio Massa, who lost last Sunday's run-off to the president-elect.
"We wish to inform that up to this moment there is no meeting planned between President Alberto Fernández and President-elect Javier Milei," read a statement published on the new X account.
The statement also said that until Milei takes office on 19 December, "President Alberto Fernández and the Economy Minister, Sergio Massa, are constitutionally responsible for the situation of Argentines."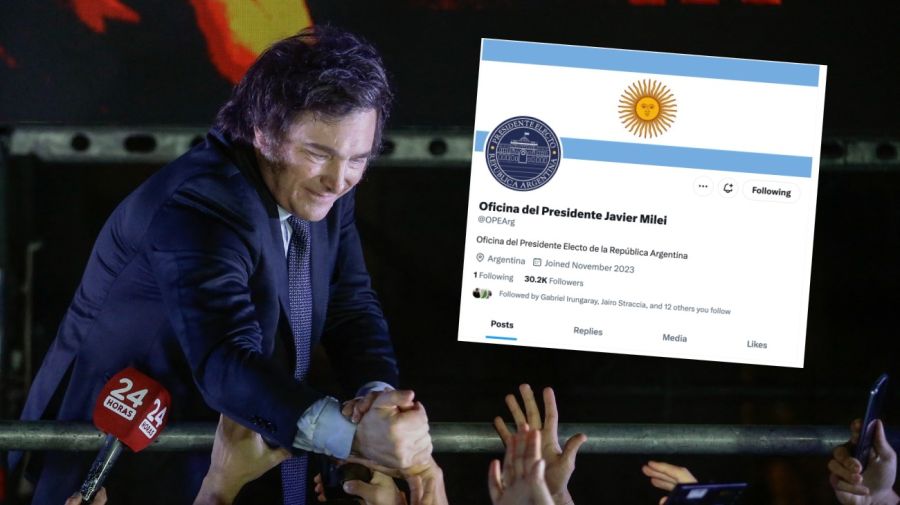 That remark comes after ruling coalition presidential candidate implied on Sunday night in his concession speech that Milei bore responsibility for any instability and uncertainty in the three weeks until the inauguration.
Local news reports said there is debate over what role Massa will play in the transition. On the evening of the run-off, multiple outlets said that the Frente Renovador leader wanted to take an immediate leave of absence and entrust the handover to close allies in his portfolio.
However, government sources briefed Monday evening that Massa would remain in his post and had already appointed a transition team, which will be led by Treasury Secretary Raúl Rigo and Miguel Pesce, governor of the Central Bank. Massa's deputy Gabriel Rubinstein and the head of advisors to the Treasury, Leonardo Madcur will also be involved.
Massa meet with his Economic Cabinet on Monday to begin talks over the transition and lay out the portfolio's priorities for the coming weeks.
It is unclear if Massa will attend any future meetings with Milei or his team. The libertarian's camp says the president-elect wants all the information available to him.
Following wild rumours and reports on Monday about the make-up of Milei's future Cabinet, the communiqué from the president-elect said that no posts would be confirmed until December 10.
"From the Office of the President-Elect we would like to inform that there will be no announcement of appointments regarding positions in the future government until the day of the inauguration," it said.
Despite the claim, Milei himself said in radio interviews on Monday that Mariano Cúneo Libarona would be justice minister and that Sandra Petovello would be appointed to the new Human Capital Ministry.
– TIMES